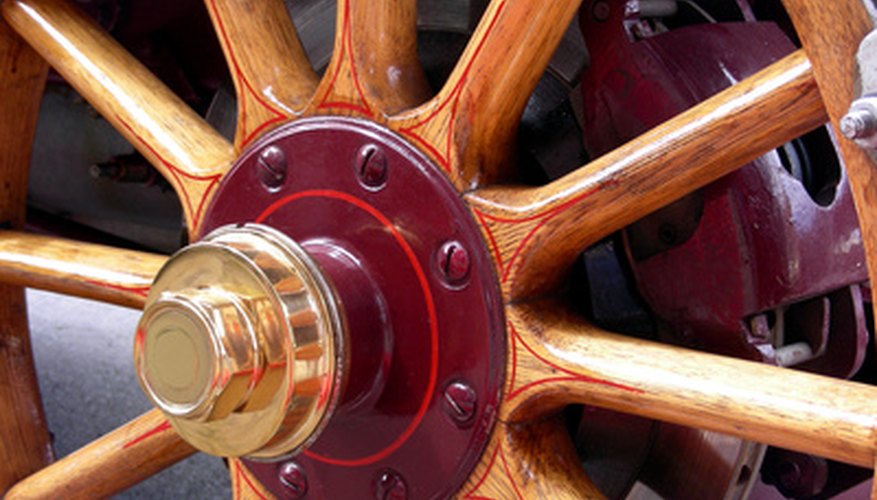 Every front yard needs a wooden flower cart. It's a wonderful way to display pots of seasonal flowers or a pile of pumpkins in the fall. This small cart will roll wherever you need it to be and is easily put together in an afternoon.
Have the lumber yard cut all pine boards to measure, or do it yourself with a skill saw. With a router, make a ½-inch wide by ½-inch deep groove 12 inches parallel to the edge on the short side of the 1-by-24-by-36-inch board to accommodate the wheel axle.
Use medium- and then fine-grain sandpaper to smooth all the surfaces and edges of the wood. Stain each sanded piece with two coats of stain, drying thoroughly in between. Then use disposable foam paintbrushes to give each piece two coats of acrylic finish, drying thoroughly between coats.
Build the rectangular sides of the box by placing one of the 24-inch squares of board on edge and butt the ½-by-24-by-36-inch board against it. Drill pilot holes ¼ inch in through the outside of the square edge to the side piece. Before screwing in the wood screws, drop a bit of wood glue into the holes to ensure a tighter bond. Do this with every screw hole. Place the screws in the top, bottom and middle for a tight bond. Repeat this process to build the rectangular carcass of the flower cart.
Measure and mark ¼ inch in and every 8 inches down the outer edge on the bottom grooved section of the flower cart. Drill pilot holes and lay the bottom section over the carcass, grooved side up. Use wood glue when you screw the bottom of the box to the carcass.
Measure and mark 1 inch down and 4 inches in from the edge on the inside of the carcass at the front inside edge opposite the grooved end. Drill from the inside out and directly into the center of the round 2-by-2-by-12-inch pine rods to attach the handles of the cart. Measure and mark 1 inch in at the center of the inside edge opposite the grooved end. Drill through and into the middle of the 1-by-1-by-18-inch pine support pedestal.
Turn the cart over and insert the 26-inch axle into the pre-drilled groove. Place the 4-inch axle guards 6 inches in from the edge over the axle assembly and secure with the eight short screws.
Slide two flat washers over the end of the axle. Slip on the wagon wheel and another washer. Secure with a ½-inch metal bolt. Repeat on the other side. Both wheels will now roll the flower cart smoothly. Use the two handles to move the cart and allow it to rest on the front pedestal.