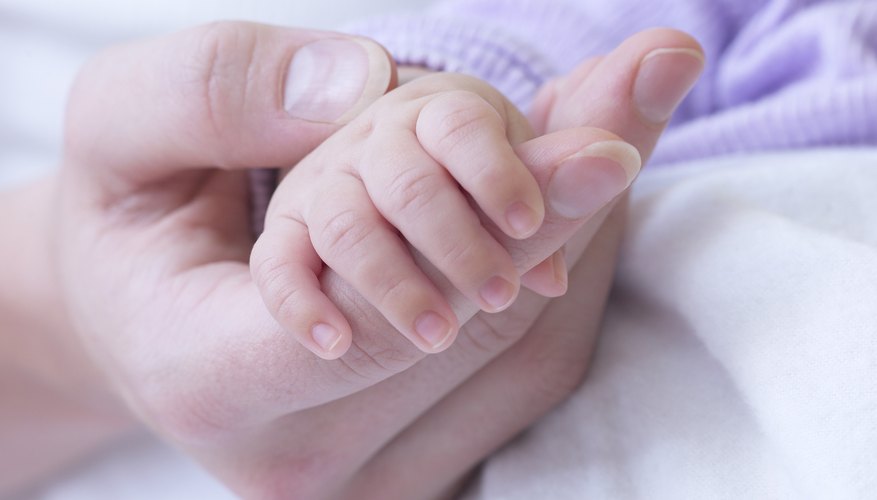 A tabby blanket is a baby blanket with decorative tabs all the way around the outer edge of the blanket. The tabs give the baby something to grab on to as well as capturing their attention with the different colors and textures used to make the tabs. Make a tabby blanket for your own young infant or make the blanket as a shower gift for a new mother and embroider the baby's name or due date on one corner of the blanket.
Cut two 21-inch squares from two different types of fabric for the main top and bottom of the blanket. Use a soft fleece fabric for one side and a smooth satin for the other or make your own combination of two different textured fabrics.
Cut 28 tabs for the blanket. Make each tab about 1/2 inch wide by 6 inches long. Use different colored satin ribbon for the tabs or make the tabs from strips of different fabrics, such as velvet, satin, tulle and cotton.
Lay one of the squares of fabric good side up on your work surface. Fold each tab in half and lay the tabs on top of the fabric every 2.5 inches. Lay the tabs so the rough ends are even with the square fabric's rough edge and the fold in the tabs are laying on the blanket. Pin each tab to the blanket.
Sew a running stitch around the outer edge of the blanket to attach the tabs. Leave 1/4-inch seam allowance on each side. Remove the pins.
Place the other fabric square good side down on top of the tabs and pin it in place. Sew a running stitch nearly all the way around the blanket with a 1/2-inch seam allowance. Leave a 5-inch wide gap in the stitching.
Cut off the very tip of each corner. Do not cut through any stitches.
Pull the blanket through the gap to turn it right side out. Sew a decorative top stitch or a simple running stitch all the way around the outside of the blanket, with a 1/4-inch seam allowance. This will close the 5-inch gap.
Tip
If you do not have a sewing machine, you can sew the blanket by hand in just a little bit more time.
Warning
Tug on each of the tabs firmly to make certain they are secured to the blanket before giving the blanket to the baby.