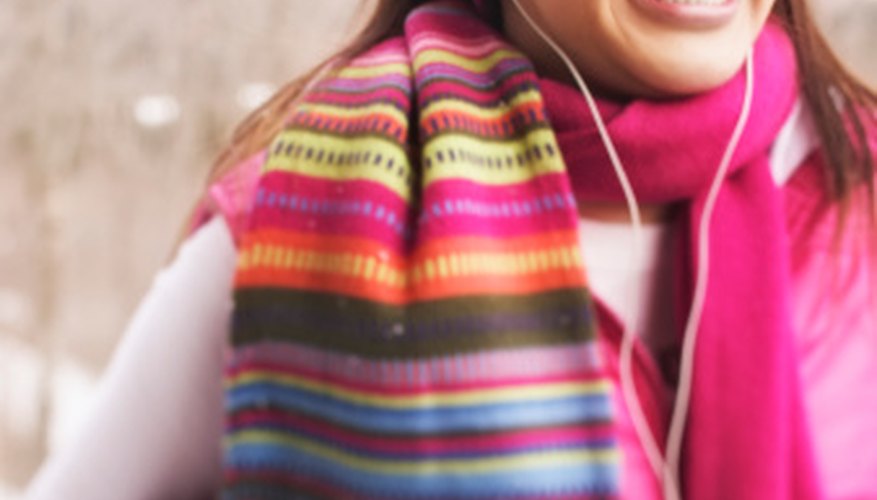 Start back-to-school and cozy fall crafts a few weeks ahead of time by making no-sew projects, such as fleece scarves. This plush fabric type, available in different pattern prints and textures, such as polar and poly-spun fleece, has minimal fraying. You decide the width and length, which will usually be a rectangle-shaped scarf pattern. Add several inches to the length measurement to create extra room for self-fabric curly fringe. You can also add other embellishments, such as beads, to the fringe for a trendy finish.
Measure the desired width and length for the fleece scarf with a flexible tape measure.
Add the desired length for the fringe. Bear in mind, curling fabric ends to make fringe reduces the finished length. For instance, if you want 3-inch curled fringe, add 4 inches as the fringe length to each end of the scarf pattern-length measurement.
Draw the fabric pattern on the fold on pattern paper with drafting pencils using a ruler. For example, if your scarf measures 10 inches wide by 60 inches long, draw the pattern 10 inches wide by 30 inches long. Do not draw in the fringe at the end of the pattern. Mark the fold line on the pattern.
Mark the fringe starting point with a felt marker. For instance, if you are cutting 4-inch fringe, measure 4 inches from each end of the scarf's bottom hem as the starting point.
Cut out the pattern with scissors.
Fold the fleece, selvage to selvage; selvages are the manufactured long edges of the fabric as it comes off the bolt. Position the pattern along the fold line and pin with straight pins. Cut the fleece with sharp fabric scissors to avoid jagged edges. You can also use pinking shears for a decorative border.
Mark the fringe length at each of the scarf ends with a disappearing fabric ink pen. Use the starting point from step 4 as the guide.
Cut vertical strips in the desired width. Use the ruler to create even-width fringe strips if desired. Do not cut beyond the starting point. Repeat steps 7 and 8 for the remaining end of the scarf.
Hold the scarf with one hand and gently pull each fringe strip individually. As you release the fringe, the curls appear. Repeat pulling the fringe ends several times for extra curling. Repeat this step on the remaining scarf end prior to wearing the completed curly-fringe, no-sew scarf.