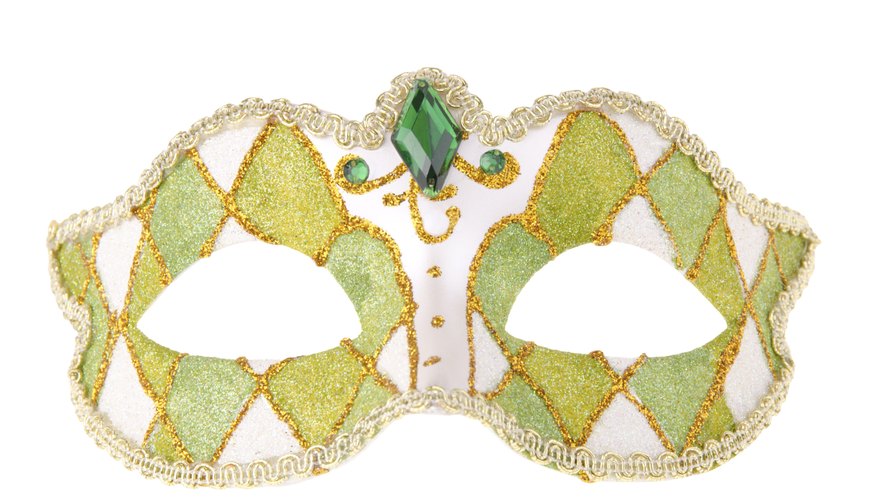 Whether you're hosting a sophisticated costume party, or a Venetian carnival or Mardi Gras celebration, a masquerade mask invitation lets your guests know they're in for an evening of elegance and mystery. If you have basic craft supplies and skills, you can make your own custom invitations. When you create your one-of-a-kind mask-style cards, keep postal restrictions in mind, and use your craft knife with caution.
Postcard Invitation
Design your invitation so it fits inside the envelope you plan to use. A standard letter envelope is 3 5/8 by 6 1/2 inches, but greeting-card and other specialty envelopes come in a range of sizes. Draw a mask outline on paper that's slightly smaller than the dimensions of your envelope. Use the drawing as a template to cut a mask from metallic or iridescent poster board. Cut away portions of the design with a craft knife to create see-through areas. Be sure to leave space for the party information on the back. If you want to make the invitation wearable, cut out the eye openings, and punch a hole on each side of the mask where you can tie a piece of ribbon.
Folded Invitation
To make a top-fold invitation, fold a sheet of card stock in half width-wise and place your mask template on it, aligning the top of the mask with the fold. Trace the mask onto the card stock, and use sharp scissors to cut the shape from both thicknesses. Leave portions of the folded edge intact so the front and back of the card remain connected. For a side-fold card, position the mask template so the left side aligns with the fold. Depending on the size of your mask, you may need a larger sheet of card stock for this card style. Cut the mask shape out, leaving the folded edge intact. To add cutaway designs to the front, open the card; place it on a cutting mat, and cut out the eye openings and other details with a craft knife.
Adding Invitation Information
Your masquerade invitation should be beautiful, but it should also give guests the information they need. If you make postcard-style invitations, measure the available blank space on the back of the card and use your computer to create a text box to fit within it. Print the party information in a pretty font and cut it out, and then use a glue stick to attach the paper to the back of the card. For a more artistic, personal touch, put your hand-lettering skills to work and write the information on the card with colored or metallic markers. For folded invitations, you can use computer printouts or hand-lettering too. Position the text so it doesn't show through any cutouts and hand-write "You're Invited" or "Come to Carnival" within the eye openings.
Decorating the Invitation
The masks worn at Venetian carnival and masquerade parties are elegantly embellished with feathers, beads and jewels. If you plan to mail your masquerade invitations, avoid using heavy trims that could add weight or present problems during mail processing. Pearlescent acrylic paint and glitter glue give the invitations color and depth without adding much bulk. Apply a few sequins, feathers and flat trims with craft glue to add a touch of drama. If you'll be delivering the invitations in person, embellish away. Use online photo galleries of masquerade masks for inspiration, and decorate your mask invitations with faux gemstones, silk flowers and other dimensional trims.