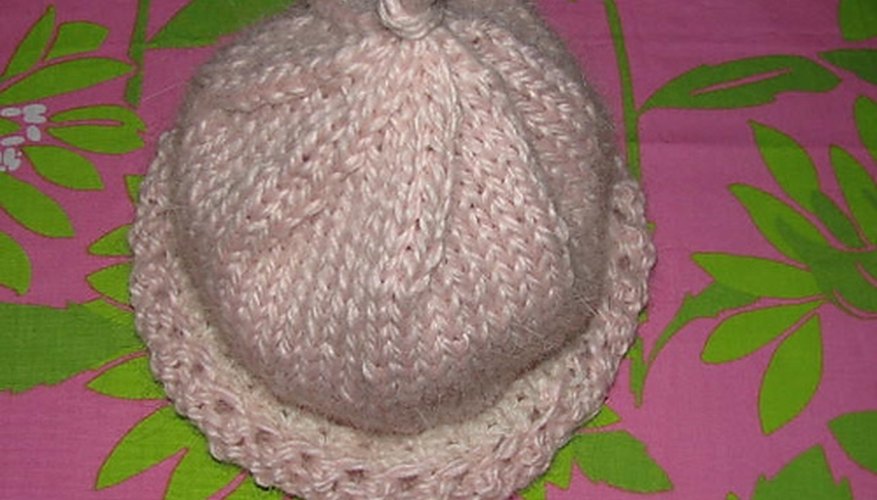 writer's photo
Knit for charity. It's easy and quick free pattern. A cute little hat, just waiting for baby's arrival. How to knit a baby hat for charity or women's shelter.
This little hat is very versatile. Bottom can be rolled up for a smaller baby and down for larger heads, or for longer use.
Use a 16" size 9US or 5.5mm circular needle, a sport weight yarn and a worsted weight, 2 strands, and cast on 64 st, using the long tail method for a little stretch. Place marker at the beginning of the row and join, being careful not to twist the stitches. Then knit around for about 1.5 in. or 4.5cm or so. Next row: decrease 8 st evenly around. Knit 56 st around until the measurement is 4.5 inches or 12cm long, including roll. Next row: K6, K2tog around to end, dividing out on dp needles.
Row 2 on dp's: K5, K2tog around to end; Row 3: Knit around; Row 4: Knit 4, K2tog to end; Row 5: K3, K2tog to end; Row 6: Knit. Row 7: Knit 2, K2tog to end; Row 8: K1, k2tog to end; Row 9: K2tog around, 8 st. remain. K2tog again to 4 st and then 1 more to 3 st. Make an I-cord about 3-4 inches, and secure end through cord, tie cord in knot.
Finish with a crocheted edge. With the top of the hat facing your body, crochet with 2 fingering weight yarns at once. I used pink and white with a size G hook. SC, Ch2, skip knit st, SC, Ch2, skip knit st, around. Next round: as before but Ch3. Finish off after round.
Tip
These little infant hats are so quick to make, you can easily make two a day for your favorite hospital charity or women's shelter.
Warning
Copyright Sharon Watterson, knittingscribe. Any transcription, printing, or reproduction of this article or pattern, is to be for personal use only, not to be used for resale. All photos are property of writer and cannot be reused without permission.