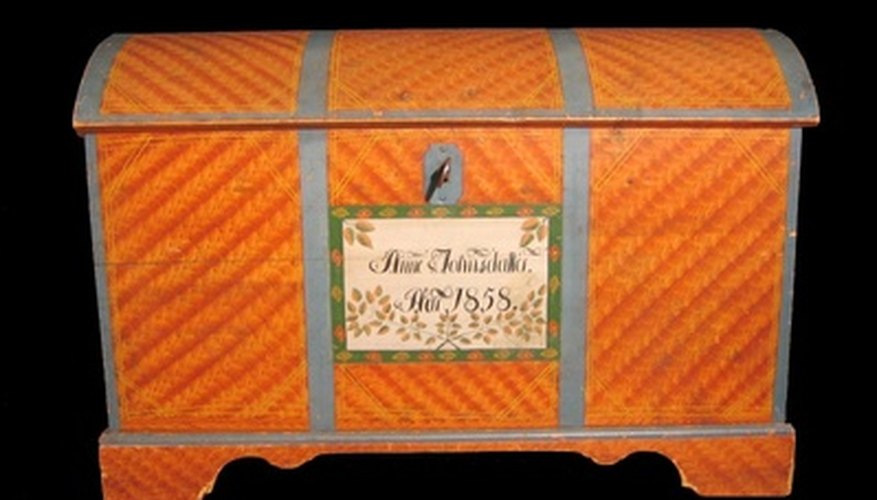 If you have a plain storage chest at home, you may eventually grow tired of looking at it or decide that that it no longer matches your color scheme. You can liven up an old chest for a fraction of the cost of replacing it by covering it with wallpaper. Wallpaper will adhere to just about any surface, as long as you select the right wallpaper for your chest and prepare the surface properly. With the right preparation, you can glue wallpaper to the sides of a chest in an afternoon.
Lay a dropcloth or old sheet on the floor under the chest.
Sand your chest, if it is wooden, with fine-grit sandpaper. Wallpaper adheres best to smooth surfaces. Wipe off any dust from the sanding.
Prime the surface of the chest, if it is wooden, with wallpaper primer and a paintbrush. Allow the chest to dry before continuing.
Measure the chest with measuring tape, and cut a slightly larger piece of wallpaper than will fit on one side with scissors. (You can trim it with your utility knife later.) If you are covering a large chest, attach each side individually rather than wrapping the paper around the chest. This will make it easier to keep the paper level.
Thoroughly wet the back of your wallpaper with a clean paintbrush. If you are covering a wooden chest, be sure to use wallpaper designed for covering wood paneling (it will have a special adhesive for attaching to wood).
Align the wallpaper at a top corner, and smooth it against the chest using the towel. If you can't get two edges to line up perfectly, overlap them slightly.
Trim excess paper from the edges of the chest with your utility knife.
Tip
For best results, forgo the scissors and cut your wallpaper with a heavy-duty straightedge and utility knife.