Things Needed
Hairspray or styling gel
Button-down shirt with bright, large stripes
Argyle sweater vest
Skinny tie
Pleated khaki pants
Paisley or argyle trouser-style socks
Penny or tassled loafers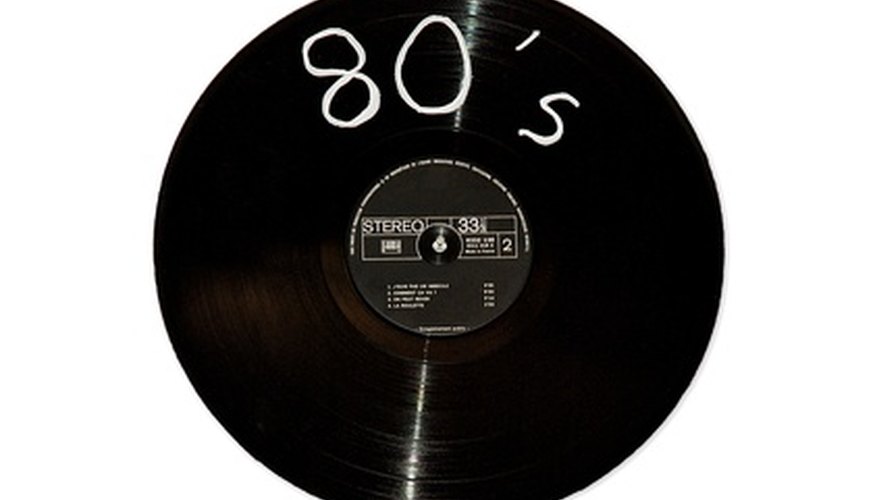 The conservative years of the 1980s delivered some new trends in fashion. On the heels of the free-wheeling '70s, the '80s toned down the clothing, though big hair and bright colors allowed for individual expression. To achieve the predominant look, think success. Men of the '80s emulated the business moguls and Wall Street tycoons when it came to fashion.
Style your hair to match the big, layered 'do's of the '80s. Use as much hairspray or styling gel as needed to keep your hair from moving, even in the wind. Trim your sideburns short, not like the bushy sideburns of the '70s.
Select a button-down shirt in a bright, solid color or a shirt with wide, colorful stripes. Cover the shirt with an argyle sweater vest to match or wear a skinny tie instead. Choose a solid color like black, white or red; the tie should be an inch to an inch and a half wide.
Put on khaki-colored casual business pants with a pleated front, the staple of casual business attire in the '80s. Complete the picture with slightly rolled French cuffs. The pants should come to your ankles, not all the way to your heel, which will allow your socks to show when you cross your legs.
Forgo socks for the Miami Vice look or wear argyle or paisley trouser-style socks. Cross your legs whenever you sit down.
Wear penny loafers -- complete with pennies inserted -- or tasseled loafers. Pair wing-tip shoes with pleated dress pants for a more formal look.