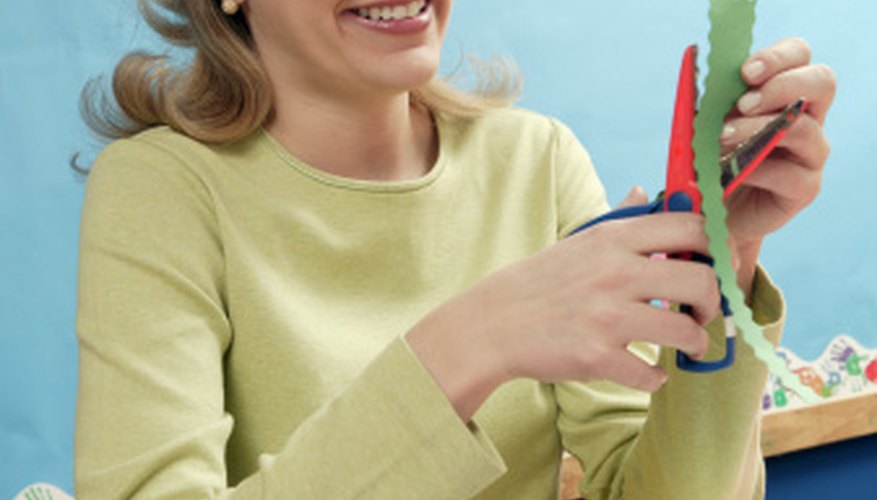 Paper tole is the art of creating three-dimensional artistic images out of paper. One technique associated with paper tole is furring, or the art of cutting paper so as to create the illusion of soft, touchable fur. Furring is a challenging technique, and there are numerous classes and how-to books that address it in depth. When done correctly, furring results in a three-dimensional paper figure that looks inviting enough to pet.
Consider the image you're working with and choose appropriately colored paper for furring. Decide on the number of layers of furring you want for your image; this is the number of pieces of paper you'll need. Set up your workspace with the image you are working on, a cutting mat, and any other paper tole supplies you use.
Hold the paper for the first layer in your left hand, with the pair of scissors in your right. Position the scissors at a direct right angle to the paper.
Make a series of small, straight cuts in the edge of your paper, maintaining the right angle of the scissors to the paper. The depth of the cuts should be determined by the type of fur you are attempting to create. For longer fur, such as the type found on cats and rabbits, make long, thin cuts. For short-haired animals, such as dogs and horses, keep your cuts short and square.
Continue to "fur" the edge of the paper until you have achieved the appropriate look. Set the first layer of your furring on the original image you are creating, and position it in place.
Continue furring the other sheets of paper until you have created the appropriate number of layers for the animal you are furring. Layer the furred sheets onto your original base image, and secure them in place with a dab of silicone.
Tip
You may want to use tweezers to position the furring in place, depending on its delicacy.