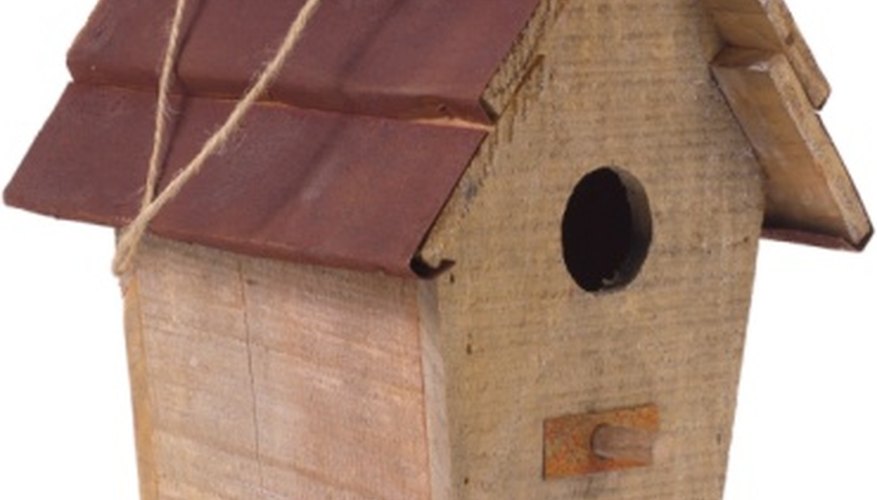 Wood birdhouses are an inexpensive and easy way to decorate a garden, nursery or outdoor living area. They also make a fun project for kids on a rainy day. When you start with an unfinished wood bird house the design and decorating possibilities are endless. All it takes is some paint and imagination to create a stunning birdhouse decoration.
Purchase a wood birdhouse from your local craft store. There are lots of designs to choose from. If this is your first time decorating a birdhouse, start with a simple design that doesn't have too many intricate parts or small details.
Pick out no more than four paint colors. At least two of them should be different shades of the same color. The paint should coordinate with the colors in the room where the birdhouse will be used. Make sure you're using paint that's meant for wood. You don't need a lot of paint, 1 or 2 ounces is plenty for a small birdhouse.
Select a few decorative touches to enhance the look of your bird house. You can choose a natural wood color that you can paint or already painted accents, such as green leaves. Scrapbook decals that match the theme of your room or birdhouse are great -- they're small, come with adhesive already on them and are easy to work with. Stickers also work well.
If there are any rough spots sand down the wood with a piece of sandpaper. Wipe the wood with a rag to remove any dust.
Some wooden birdhouses come with a tin roof, but if yours is wood, start by painting the roof. Be sure to cover all the edges, and if any part of the underside of the roof is exposed, paint it too. You want to start with the roof so if paint drips, you'll be able to paint over it. Wait until the roof dries completely before moving on.
Pick your main color and use it to paint the large house part of the wooden birdhouse. Don't forget to paint the back side. Remember, you can add more detail and color later, but you'll want to wait until the paint dries before adding details.
Paint the bird perch and the wood around all bird hole openings. If there's a shallow opening, paint the back side of that, too. You may choose to paint them in one of the complementary colors to add a little flare, or you can use your main color.
Add some personality by painting stripes, large circles or squiggles all over your birdhouse. Add as much or as little as you want.
When the paint is dry, add special touches to give your wooden birdhouse even more dimension and character. Add small wood leaves, birds, stickers or scrapbooking decorations. Glue your decorations directly onto the birdhouse. If your birdhouse will be hanging, don't forget to add a few decorations to the back and sides so it's attractive from all angles.
Tip
If you don't have a steady hand to paint stripes, cut ribbon and glue it onto your birdhouse.