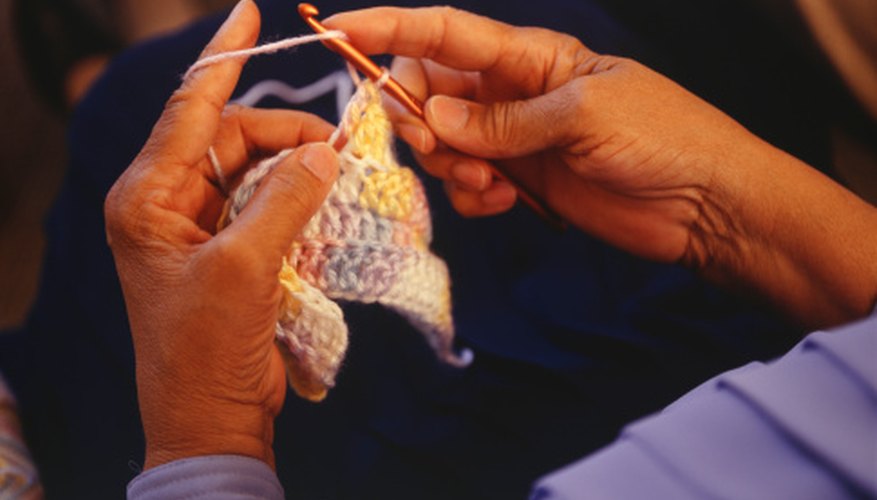 Gently wash your vintage china plate or even your face with a crocheted scrubbie. These handmade scrubbies are quick and simple to crochet. Cotton yarn is the optimal type to use since it handles washing nicely and dries well. Either solid-colored or variegated yarns make for very pretty scrubbies in the kitchen or bathroom. This crochet scrubbie pattern is for a square, ribbed scrubbie.
Crochet a chain of 13 for a small, 2-inch sized scrubbie. In the second chain from the crochet hook, work a single crochet. Make one single crochet in each chain loop across for 12 single crochet stitches in the first row. Chain one and turn.
Work a single crochet in the back loop only in each stitch across. This will create a ribbing effect for a scrubbier piece. Chain one and turn.
Make 12 rows total continuing to do single crochets for each row in the back loop only, just as in Step 2 for a square scrubbie. Each new row adds to the ribbed effect. Fasten off at the end of the twelfth row and work in the yarn ends to hide them. This makes a square ribbed scrubbie.
Crochet a longer chain for a larger scrubbie. Make as many rows as you made chains for a square scrubbie.
Toss your crocheted cotton scrubbies in with the towels when you need to launder them. They machine wash and dry very well because they are made of cotton.