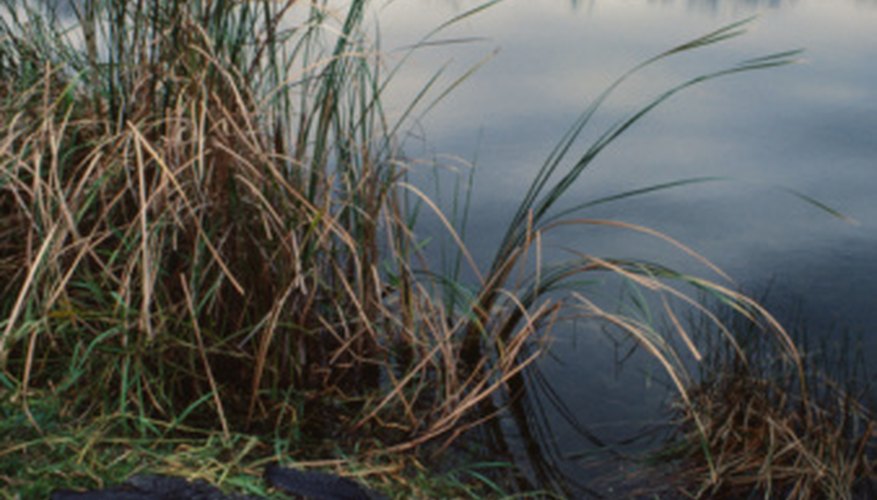 Whether you're decorating for a themed party, a school fair or a kids' event, creating a swamp scene is the perfect opportunity to lure guests into an immersive, mysterious environment. A small nook such as a hallway or a larger area -- maybe part of a gymnasium -- can be adapted with strategic use of your space. Use sound effects to create the illusion of extending swamp in a limited area, or make interactive elements such as abandoned cabins or a gator island in bigger venues.
Map your available space. Consider it three-dimensionally, accounting for the ceiling space, walls, doorways, flooring and windows. Decide where you want to place obstacles or decorative elements such as tree trunks, rowboats, prowling gators or rustic docks. Mark a basic outline in your area with painter's tape, showing where the elements will be placed. For items with height, such as trees, mark their spots with a yardstick propped in a bucket to remind yourself that the participant's view of the scene will be partial.
Assess lighting sources to redirect your light by covering windows or ceiling light fixtures. Provide dim, indirect light with hidden lamps shrouded in green. Tape down cords to avoid tripping. If you want to feature a photo corner, make sure it's brightly lit; you can maintain your theme by placing vintage lanterns, hurricane lamps or watercraft floodlights.
Review photos of swamps to choose which elements you want to feature, such as hanging moss, trees and water. Use materials such as bolts of paper, streamers, papier mache, cardboard, blue plastic wrap and tarps. Cover a stool with brown paper painted like bark for a tree trunk and glue crafting moss to it for further effect; place fake fish and frogs in a decorated kids' pool filled with tinted green water; hang bunches of green and brown streamer braided together for hanging moss; paint a background of receding trees on a wall of paper for added dimension; display weathered wooden signs painted "warning: gators"; cover part of the floor with waves of blue and green plastic wrap for water.
Add sensory elements to create a holistic experience. Run humidifiers for a warm, muggy atmosphere, but avoid close contact with paper decorative elements. Download MP3 swamp sound effects such as native birds, insects and water movement and play them from hidden speakers. Enhance a creepy mood with plastic toy snakes, spiders and baby alligators.
Tip
For bigger budgets, rent a dry ice machine to create a foggy, misty swamp scene. Find a used rowboat on Craigslist to use as a prop.
Stock a snack bar with regional cuisine such as crawfish or etouffee for grown-ups, or green "slime" gelatin and chocolate cookie "mud" cupcakes for kids.
Take pictures of your final swamp result.
Warning
Keep fire exits visible.
Follow directions on any rented equipment.