Things Needed
2 sheets 3/4-inch plywood, 4 feet by 8 feet
Edge banding, to stain or paint
Circular, table or panel saw
Miter saw or miter box
Brad nailer
Glue
Sander
Paint or stain
Lacquer
Drill
Pocket screw jig
Wood Screws
Wood filler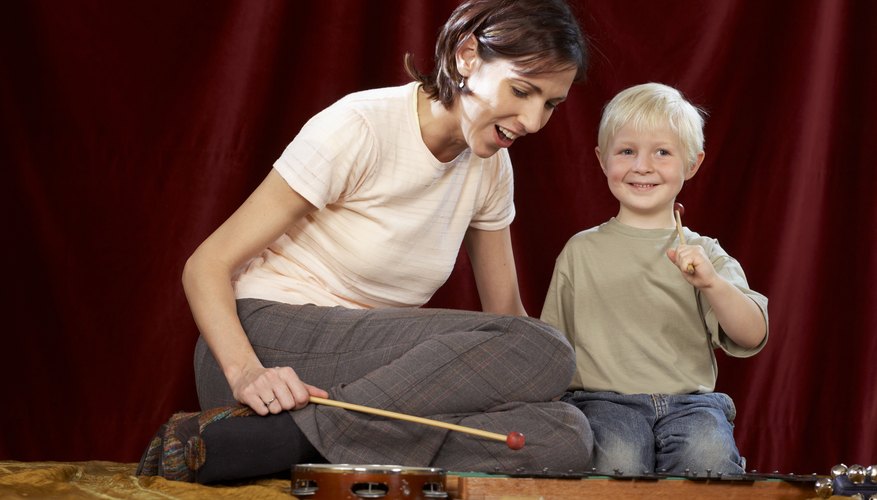 Kids love the idea of being on stage, whether it's to sing, dance or act. In just a few hours, you can build and decorate a stage for your child's room or the family game room. Customize the project to fit your decor by using paint, stain, carpet or vinyl flooring. Get really creative and add a curtain and stage lights for a truly professional effect. The measurements provided are for a 4-foot-by-8-foot stage.
Cut one piece of plywood 11 1/4 inches by 94 inches and one piece at 11 1/4 inches by 92 1/2 inches. Cut two pieces that are 11 1/4 inches by 47 inches, three pieces of 11 1/4 by 45 1/2 inches, and two pieces that are 3 inches by 45 1/2 inches.
Miter both ends of one side of the 94-inch piece at 45 degrees. Miter one end of one side of both 47-inch pieces at 45 degrees.
Sand the better looking side of the 4-by-8 sheet of plywood and the nonmitered sides of the two 47-inch pieces and the 94-inch piece.
Form the base by attaching the 94-inch piece to the two 47-inch pieces so that they make two 90-degree angles, like a giant squared off "U." Attach the 92 1/2-inch piece flush with the backs of the 47-inch pieces using pocket screws. You should have a box that is 94 inches long, 47 inches deep and 11 1/4 inches high.
Space the three 11 1/4-inch-by-45 1/2-inch pieces equally inside the box. Stand them on edge long-ways so that they are 11 1/4 inches high. Attach them to the front (94-inch piece) and the back (92 1/2-inch piece) using pocket screws.
Attach the two 3-inch-by-45 1/2-inch pieces so that each touches the tops of the front, back and one side, using pocket screws. Note: These should stand 3/4 inch high, not 3 inches high. Make sure they are flush with the top.
Lay the platform top face down and place the base on top of it. Using pocket screws, attach the top so that it hangs 1 inch over each side and the front, and is flush with the back of the base.
Apply the edge-band around the front and both sides of the top.
Fill in any holes and spot sand.
Paint or stain to your liking. When the finish is dry, protect it with a couple of coats of lacquer. Let dry completely.
Attach the stage to a wall to keep it from moving, if necessary.
Tip
If you want to get your kids involved in the process, let them help paint.