Microsoft Office clip art
Most amateurs think that building a set for a school or community is simple. Just bang a few pieces of wood together and paint them and off we go! The reality is that most amateur designs are too ambitious to ever be built successfully and even less likely to work for a given production. Before you volunteer to build that set, know what steps to take to be successful.
Study the play. Where does the action take place? Will movements of scenery be required? How many scenes are they and how long is each? Complex scene shifts interfere with plays that have complex scene structures. Save the big scene shifts for a play that has long scenes and benefits from awe-inspiring scene changes.
Talk to the director to get her ideas before read-throughs. Too often, amateur actors and directors start off rehearsing without a clear idea of what the set is going to look like. Insist that the director sit down with you to discuss her concept of the play and how she "sees" the actors interacting with the set. This could mean blocking movements that actors will be told to make or what feeling the director wants to convey to set the action for the play. Don't make assumptions. Every director interprets each play a little differently according to the director's experience and the age and experience of the actors. Agree on a budget and set a conference to go over your plans so the director can block accurately the first time.
Consider points of view. You want an artistic set. The actors need a usable set. The audience needs a set that doesn't steal the show. Make a list of things the set has to have, including different levels (Greek and Shakespearean tragedies), specific historical design elements (like The Crucible) or special effects (as in The Haunting of Hill House). Decide what kinds of areas will best serve the action of the play and the movements of the characters. Determine style and color scheme for your set.
Begin assembling materials. Platforms require 2 by 4 inch lumber and three-quarter inch plywood, joined with carriage bolts and screws so they don't creak. Vacuum-formed and foam structural products have become very popular but the old one-by-four batten and canvas flats are still useful for realistic or "battle" sets. Canvas and felt can be used to cover platforms and minimize noise. Beyond that, use your own creativity and inventiveness and dispatch your minions to scavenge. Drapery and set dressing can be picked up at sales. Check garage sales for hardware and props. A lot of out-of style furniture and household items can be altered, painted or slip-covered for a new life in agreement with your design. Add details or create props in paper-mache or fiber glass.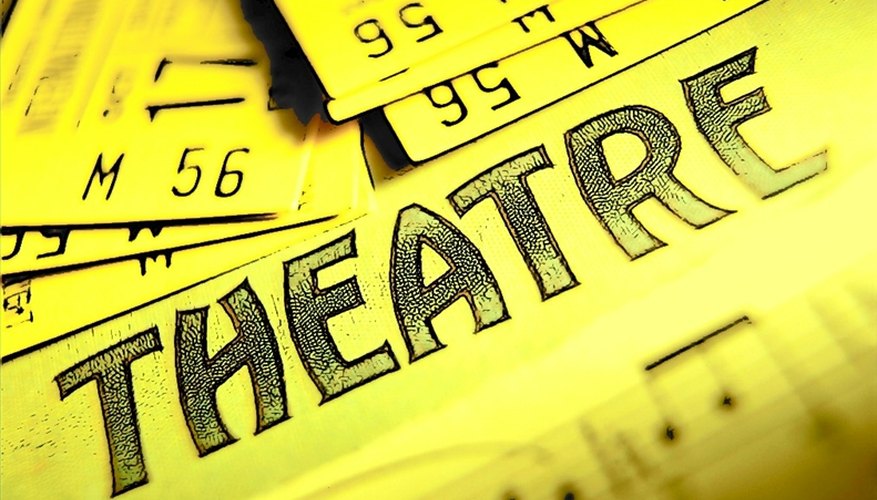 Begin building. Tape out a floor plan immediately, so the actors can use it as soon as possible. This is especially important if you're working in a big hall where seating and stage can be determined for each production. Erect flats, platforms and other structural elements as they are finished. Furniture, dressing and props. Establish a schedule with deadlines for everything.
Unfortunately, there are lots of examples but few instructions for set building on the web. Search for "theatrical supplies" and "theatrical stage building supplies" for materials. Invest in a good book on stage construction if you plan to build more than one set. "Stage Scenery: It's Construction and Rigging", by Arnold S. Gillette and Michael Gillette is a classic compendium. Building a scale model and doing construction drawings gives your crew instructions as to how to build and what the finished set should look like.
Know your limitations. Remember that you're probably working with volunteers, some of whom have limited experience working with the absolute deadlines you'll have to face. Identify your die-hard participants early and give them ownership positions Avoid overbuilding by checking with the experts before using two-by-fours for everything.
Microsoft Office clip art