Things Needed
Foam core board, 6 large pieces
Duct tape or masking tape
Long "T" pins
Upholsterer's or small hammer
Table with vinyl tarp
2 wood horses and 2-by-4-inch boards, optional
Measuring tape
Pencil
T-square
Craft knife
Marker
Small plastic bag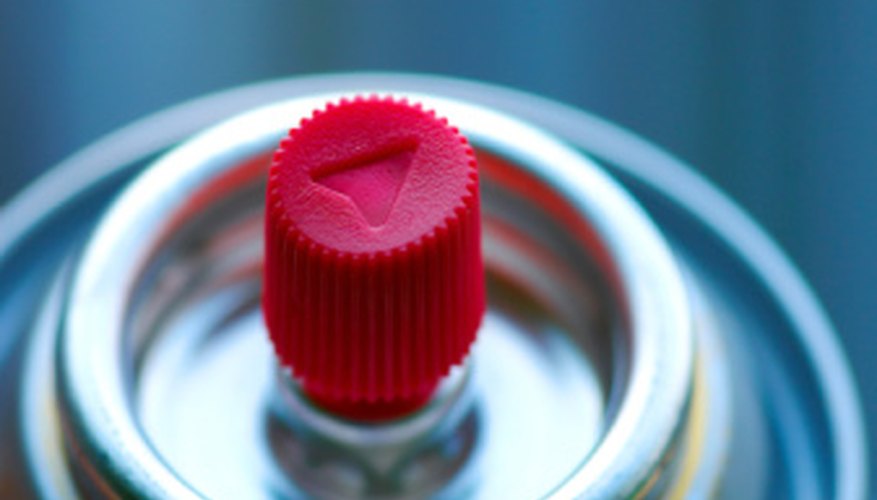 If you are an artist or craftsman or just occasionally have a household project that requires spray paint, you will appreciate having a portable paint booth. You can purchase a ready-made paint booth or make your own from some simple, inexpensive materials. Create a portable paint booth from large pieces of foam core board held together with metal "T" pins that are available at craft stores and used with floral decorations. Using T pins will allow you to easily assemble or take apart the paint booth as needed.
Line up five pieces of foam core board, two pieces at a time, and place a piece of duct or masking tape to hold them together until the long metal "T" pins are put in place. Hammer the pins in place gently so as not to bend the pins or damage the foam core board. Continue lining up the pieces until three sides of a box or cube without a top is formed.
Choose what the portable paint booth will be placed upon when it is in use. An old table or a table that is draped with a vinyl tarp will work. Two 2-by-4s or a piece of plywood placed across two wood horses is another alternative. When placed on one of these items, the portable paint booth would be sitting at waist level.
Place the portable paint booth on the table or wood horses with the open side facing out, toward you.
Place the final piece of foam core board on a flat surface and find the middle of the board with a measuring tape. Mark the foam core board and cut in half with a craft knife and a T-square to make the doors for the portable paint booth.
Position the doors in place with a piece of masking tape and hammer the T-pins into place gently.
Mark the pieces of the portable paint booth with a marker before disassembling it for the first time. This will make the assembly of the booth easier the next time.
Place the T pins in a small plastic bag after disassembling the portable paint booth, and store them with the booth.
Tip
If you prefer not to use T pins to connect the walls of the portable paint booth, you can use duct tape to form hinges on the walls. Create two sets of walls by taping two foam core boards at a time. Then pin them together with T-pins. Fold the duct-taped walls when stored.