Things Needed
Compass
Plywood, 3/4-by-24-by-24 inches
Bandsaw
Jigsaw (optional)
Oak lumber, 3/4-by-3-by-36 inches
Table saw
Wood glue
Hand clamps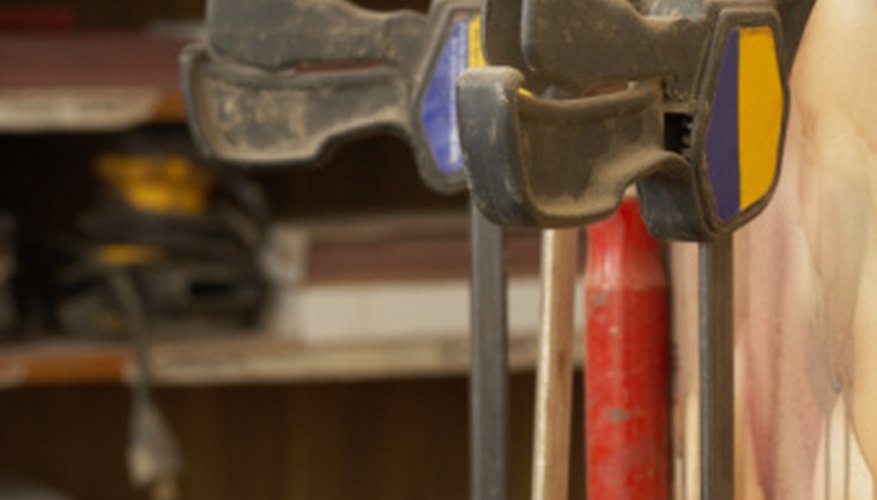 Bent oak looks exotic, and seems to defy nature. You can bend oak into almost any shape you want without steaming it. Woodworkers know a trick that involves cutting the oak into thin pieces first, then gluing them around a form to bend them. Bending your own oak this way lets you create any bent oak radius you desire, and you can do it in one afternoon.
Cut the plywood into the letter "C" using your bandsaw. Use a compass to round the corners. Keep the plywood as close to the 24-by-24 inch size as possible. If you don't have a bandsaw or are not qualified to run one, use a jigsaw.
Set the table saw at 3/16 inch and cut the board into lengthwise strips.
Lay the "C" form out on a flat surface. Lay one of the strips down on its edge on the curved side of the form. Spread glue along both sides of another strip and lay it down beside the first strip. Set another strip down beside the glued one to form a sandwich with glue in the middle, and dry edges on both outer edges.
Reach over the center of the "C" and the strips with a clamp. Tighten the clamp against the strips and the center of the "C" form. Place two more clamps on either side of the first clamp and tighten them. Continue around the form placing the clamps every 6 inches. Let the glue dry for one hour.
Remove the clamps and place a glued strip. Follow that with another glued strip and then another dry strip. Place clamps around the form as in Step 4, on top of the original strips. Wait one hour for the glue to dry. Remove the clamps and glue up another strip sandwich. Clamp, and repeat until all the strips are used up or you have reached your desired depth.
Remove the clamps the final time. You now have a bent piece of oak that you can use for arch molding or a custom woodwork project.
Tip
Sand the glue off with 100-grit sandpaper and cut the bent oak on the bandsaw to fit anything you desire. The measurements here are examples only. You can make your form any size you want.
Warning
Lay a piece of plastic underneath your form to prevent glue from dripping when you clamp your oak to the form. Always wear safety glasses when working with wood.