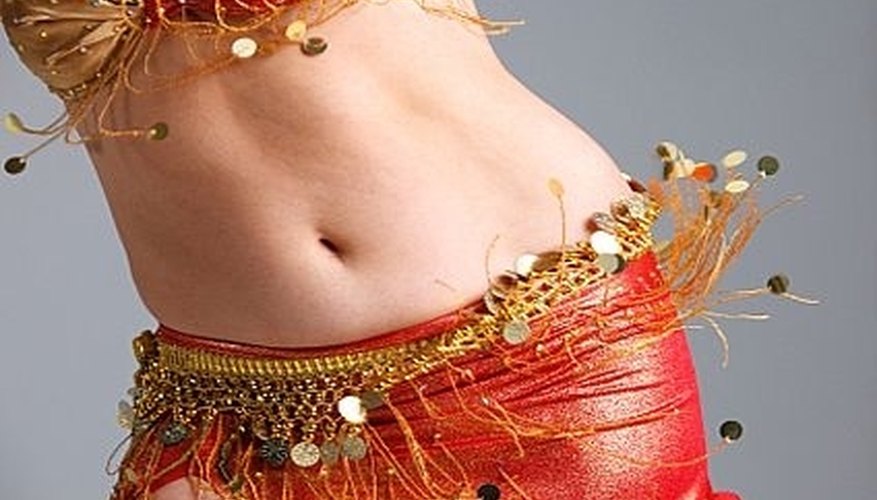 The ancient Middle-Eastern art of belly dancing is very unique and versatile. It is great exercise and tones your entire body. It can be an exciting way to arouse your partner's interest. It can also be a fun way to bond with your female friends. Whatever your intentions, you can learn how to belly dance
Dress the part. Find clothing that is stylish and modern yet comfortable. Think long loose skirts and shirts.
Purchase a CD of Middle Eastern music. This will set the mood and help you learn the rhythm of belly dancing. You can find a CD at your local music store or at many online retailers. Listen to it and study the rhythm of Middle Eastern music.
Warm up. Belly dancing will work some muscles you forgot you had, so you need to warm up before you get started. Do some head rolls and try to loosen up the rest of your body as much as possible.
Start with your head. Move your head in circles, while keeping your head level. Do it clockwise first. Whenever it feels right, move it counterclockwise. Slide your head from left to right. Keep your head level and your nose pointing straight ahead.
Utilize your shoulders next. Move your shoulders in circles. Go forward, up, back then down. Shimmy the shoulders. Move your right shoulder forward while moving your left shoulder back. Gradually pick up speed( You should feel this in your ribcage).
Work your ribs. Slid your ribcage from side to side without even using your hips yet. Next, slide your ribs right, front, left, then back in a circular motion.
Roll your belly. This is the most well-known move in belly dancing Pull in both the bottom and top half. Then release both the top then the bottom. Take it slow then gradually build up speed until it looks natural and fluid like you are rolling your belly.
Get hippy. Shimmy your hips. Keep your torso still and start moving your hips from side to side. Pick up speed.
Circle your hips. With bent knees and a still ribcage, move your hips in a complete circle. Switch it up and do it the other way.
Drop the hips. Put most of your weight on your life leg and slide your right foot so it is front of your left foot. Keep your knees bent. Raise your left arm overhead and put your right arm out to the side. Bring your right hip up and forward then drop it back.
Don't forget those hands and arms. Visualize your arms as snakes. Raise your right arm slowly, lifting your shoulder first then your elbow, wrist, and fingers. Lower your right arm while lifting your left in the same way, Practice until the movement is fluid. You can also make circles with your arms and add your own variations to make the dance more interesting.
Pick up the finger symbols. If you really want to get into it, try using finger symbols. You can pick them up at music store or on the Internet. They will help you keep the rhythm. Slip your thumb and middle finger into the elastic on the back of the symbols. Make sure they are positioned so when your bring your thumb and middle finger together the cymbals will sound. Right left right rest. Then right left right left. Chime them in time with the rhythm of your chosen music.
Keep practicing. Once you master the basic moves then you can try more advanced ones. Purchase books and videos to help you learn the more complicated moves. Also you may be able to learn new moves online. If you really want to continue your belly dancing, take a class.
Tip
Isolation is one of the most important concepts in belly dancing. Keeping one area of your body still while moving another is key. You can modernize the ancient Middle Eastern moves by adding them to your modern dance moves. Throw in the snake arms or the hip shimmy next time you are at a club. Playing finger symbols takes a lot of coordination so, do not get frustrated if you don't get it at first. Just keep practicing. If you are doing the dance for your partner, make eye contact. This is one the most sensual things you can possibly do Remember to stay loose. You will not be able to belly dance if you can't let your self go a little.
Warning
If you have any medical conditions or are in poor health, you may want to ask your doctor if belly dancing is an appropriate exercise for you.