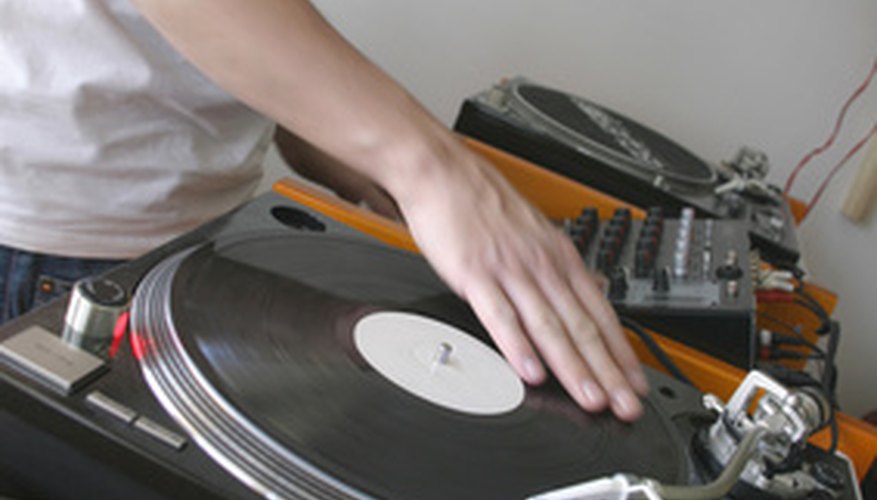 As a DJ, also known as a disc jockey, you may work in clubs, bars, private parties and other venues. There is no formal education in order to become a DJ. Thus, many DJs study under an established DJ to learn the basics of mixing, editing and creating the ideal party atmosphere. To become an international DJ, you must have dedication to networking and promoting your content.
Study the art of mixing music and creating a party atmosphere. Books and online resources are available for a budding DJ to help establish a foundational knowledge about this job. Do not move onto the next step until you've spent several months researching terminology, techniques, genres of music, type of equipment, etc.
Purchase DJ equipment. Necessary equipment is determined by the amount of money you wish to spend as well as the type of DJing you wish to perform. A basic DJ kit should include a tabletop CD mixer and a professional-style DJ mixing board. You can also consolidate equipment to your computer and install DJ software such as Numark CUE Professional DJ Software or Gemini GROOVE Professional DJ Software.
Practice using your equipment. Do not begin marketing yourself until you have gained a solid understanding of your DJ equipment and found your specific music style.
Create a website for your DJ service. Include information regarding your style, equipment used and samples of your mixes. This will be a vital marketing tool as many DJs obtain work from online networking.
Contact local clubs, bars and music venues to inquire about DJ vacancies. Many bars will allow new DJs to guest-spin during a slow night, and depending upon your performance, you may be asked to come back on a busier night. Spend several months, if not longer, developing your sound by working in venues. This will also help develop a solid list of references and fans.
Submit your resume, cover letter and sample CD to DJ agencies around the globe. While working with an agency in your home country, you can book local gigs. In order to book international gigs, you'll need to have agents in different countries. Take note that not every DJ agency accepts unsolicited submissions. You should contact each agency to inquire about their submission procedure.
Sign contracts with DJ agencies in different countries and be prepared to travel across the world bringing music to clubs, bars and concerts.
Tip
It may take several years of DJing in local cities before getting the attention of an agency.
Warning
Do not simply buy DJ equipment and begin working in clubs. Rather, spend as much time as necessary creating your sound and becoming as good as you can. This will set you apart from other novice DJs as you'll have a solid understanding of the industry and your talent.