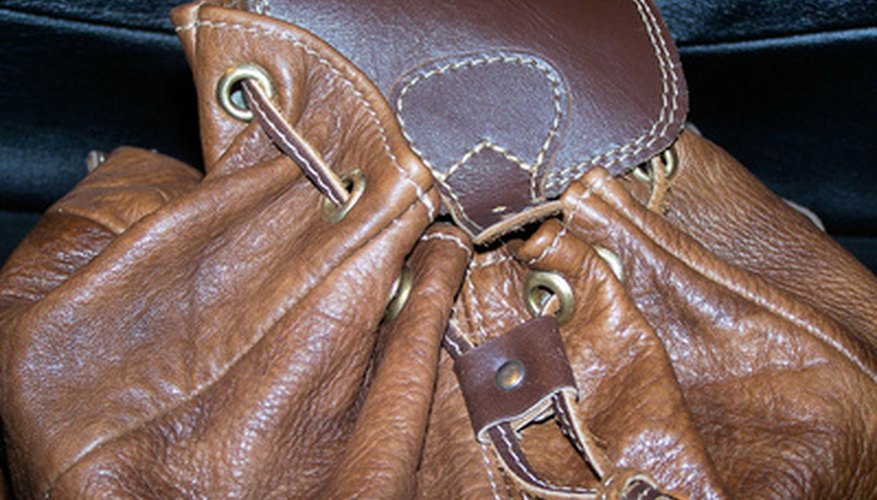 The versatility of leather offers many options for designing handbags. Leather handbags can be made from several types of leather and can be assembled by hand or using a sewing machine. When made properly, leather handbags make fashionable and long-lasting additions to any wardrobe.
Selecting a Handbag Design
Select the design of the handbag. The designer must first choose the design of the handbag. In some cases, a customer who is seeking a custom-made leather handbag may choose the design or work with a professional designer to create a design. The design may be based on the latest handbag trends and/or the type of leather that will be used. A designer makes the drawing off the desired handbag, and a final paper model, or pattern, of the handbag is made using actual dimensions of the desired finished product.
Understanding Your Leather Options
Know your leather options. There are three types of leather that are commonly used for making handbags: full-grain, corrected- or top-grain and suede. Full-grain leather is the most durable and is free of any imperfections. Corrected- or top-grain leather is smooth on one side and fuzzy on the other; it may have some imperfections that can be corrected. Suede looks and feels soft and fuzzy. A designer must be sure that the chosen design of the handbag is suitable for the type of leather that will be used. The type of leather used affects the ease of caring for the handbag, the feel of the handbag and the final look of the handbag.
Preparing the Leather
Prepare the leather for stitching. The leather is laid out on a cutting board and cut according to the pattern. Sharp, heavy-duty scissors and/or a razor knife may be used to cut the leather. A measuring tool, such as a ruler or carpenter's square is used to ensure that the leather is cut correctly.
Stitching
Stitch each piece of leather for assembly. Stitching may be done by hand or a sewing machine. After the stitching is completed, the assembler attaches all of the pieces, including the handle(s) and any outside pockets. During the handbag's construction, the assembler must be careful not to ruin pieces of leather with unnecessary stitches; any holes that are created in the leather during the stitching process will not close over time and may be noticeable on the final product. The lining of the handbag is constructed after the main assembly is completed. All pockets and zippers are created and added to the lining before it is attached to the inside of the handbag. The assembler will do a test fit to ensure that the lining will fit the handbag properly.
Finishing
Add the finishing touches. The assembler finishes the bag by adding any accessories or final hardware based on the original design. This includes any zippers, snaps, buckles and/or tags.