easter cock and chicken with easter-eggs image by Maria Brzostowska from
Fotolia.com
6-inch Styrofoam ball
12-inch wooden dowel
Craft glue
6-inch flowerpot
Aluminum foil or plastic wrap
Plaster
Acrylic paint
Toothpicks
Round individual foil-wrapped candies (pastel colors)
Ribbon
Pipe cleaners
Plastic eggs (that snap open in the middle)
Heavy-duty Styrofoam plate
Green craft foam
Scissors
Twist ties or floral wire
Decorations for Easter often consist of symbols such as eggs and rabbits and use pastels and spring colors. Eggs and rabbits (one of the most fertile creatures) are symbols of new life and rebirth. Spring is also considered to be the earth's reawakening. Christians celebrate Easter in honor of Jesus Christ's resurrection or 'rebirth.' Decorate your home with these symbols of rebirth in order to celebrate and welcome spring into your home.
Easter Candy Tree
Stick the dowel into the Styrofoam ball and set aside.
Line the flowerpot with plastic wrap or aluminum foil. Fill three-quarters of the way full with plaster. While the plaster is still wet, stick the wooden dowel into the center of the plaster. Allow the plaster to set.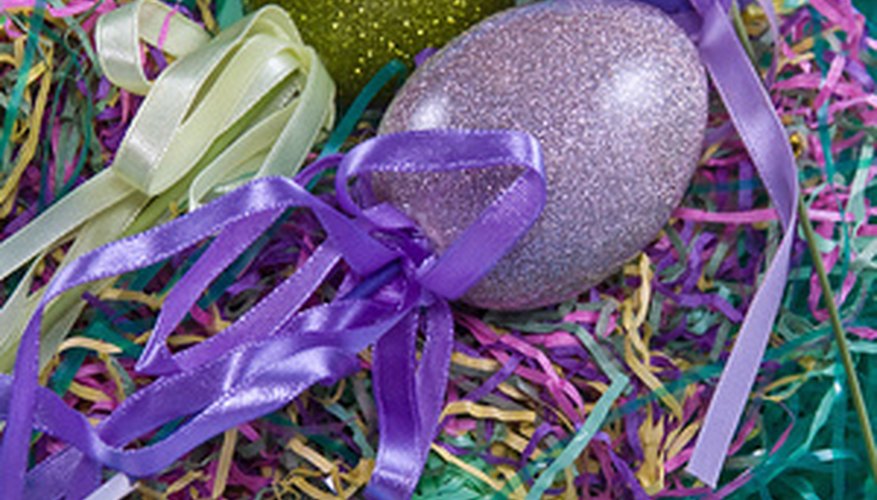 Place Easter grass in the flowerpot around the wooden dowel.
Paint the Styrofoam ball with acrylic paint in order to hide any openings that may be present after placing the candies. Allow the paint to dry.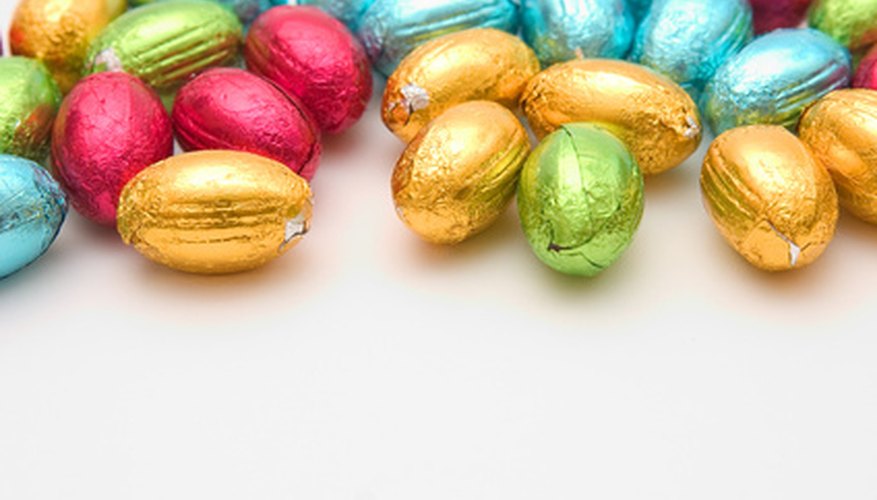 Stick one toothpick into the center of each candy. Do not allow the toothpick to go through the other side. Place the opposite end of the toothpick into the Styrofoam ball. Continue until the entire ball is covered in candies.
Tie a ribbon around the dowel to complete the candy tree.
Easter-Egg Holders
Decorate plastic Easter eggs with craft paint. Allow the eggs to dry.
Take two pipe cleaners and cut them in half. Hold them together in the middle. Take one end of a pipe cleaner and wrap it around the rest, keeping the pipe cleaners in place.
Stand the pipe cleaners up by bending and stretching out the "legs" (so that they look like human knees when bent to sit). Create "feet" by bending the pipe cleaners about 1/4 inch at the ends.
Do the same to create "arms" that will support a plastic egg.
Place an egg onto the holder and decorate your home by placing them on shelves or tables.
Easter-Egg Wreath
Decorate 14 plastic eggs with craft paint and allow them to dry completely.
Open the plastic eggs in the middle and set them aside.
Use scissors to cut out the center of a heavy-duty Styrofoam plate, leaving the outer rim intact.
Cut out green leaf shapes from the green craft foam. Glue the leaves onto the Styrofoam plate, leaving 1 1/2 inch between each leaf.
Tie floral wire or twist ties around each leaf, leaving about 1 inch hanging off. Snap the eggs back together on the twist ties or wire in order to hold them in place. Continue until all 14 eggs have been placed on the wreath.
Writer Bio
Since 2007, Emilia Lamberto has been a professional writer specializing in home and garden, beauty, interior decorating and personal relationships. Her work has appeared in various online publications. Lamberto owns two blogs, one which provides readers with freelance job opportunities and one which covers beauty advice and product reviews.
Related Articles