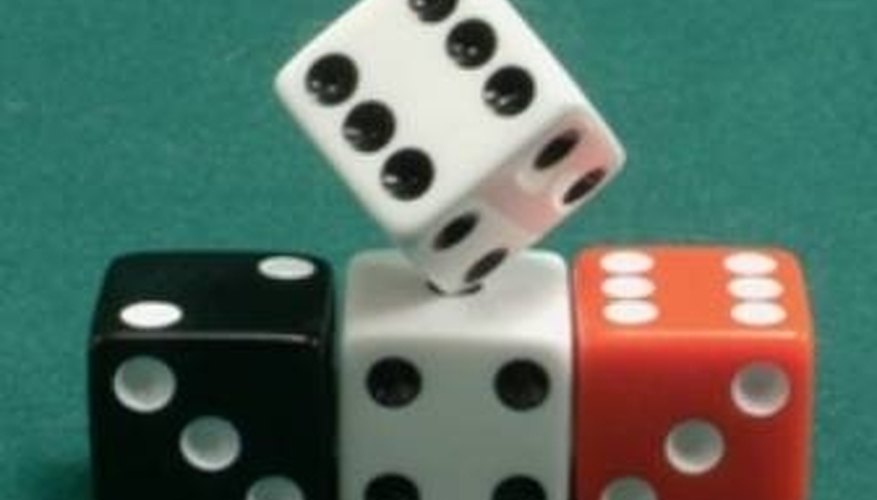 Game nights are an inexpensive way for women to have a fun night out. With some potluck and a very small investment, friends can get together at each others' houses without having to deal with crowds, pickup lines and secondhand smoke. If you're thinking of organizing a regular night out with "the girls," you have plenty of options of games for women to play.
Bunco
Bunco is a very popular game for women. However, if you ask a woman in attendance on Bunco night, she will tell you it's more about getting together with friends than the game itself. Still, the game is one of the highlights.
At least 12 women are needed to play Bunco, but don't let those numbers scare you. If you can't get together a dozen friends or more, your favorite stuffed animals can step in. Group four women/stuffed animals together at each table, with one "head" table and at least two other tables scattered throughout the house. Card tables and coffee tables are fine for Bunco.
The head table signals the beginning and end of each round. The object is to win points by rolling dice. For example, during round one, each player rolls for "ones." Every time the dice shows a one, this is notated on a pad. If all four dice yield ones, Bunco is achieved. Players can also earn points if their dice all have the same numbers, even if it isn't the round's designated number.
Mah Jong
Mah-jong is also played in groups of four. The object is to be the first person to complete three melds or suits. One thing to keep in mind is how different cultures play the game. For instance, the game is popular within both the Chinese and Jewish communities, and the rules are slightly different with each. Both Chinese women and men play mah-jong and it's a popular form of gambling. However, for other cultures, it's generally a game for women.
The game starts with the "washing of the tiles," or placing the tiles face down and mixing them. In fact, this is how mah-jong or "Sparrow Tiles" got its name. The clinking of the porcelain tiles as they bump together is said to mimic the sound of birds chirping and chattering. After the tiles are "washed" and set up in a "wall," players choose 12 tiles from various sections of the wall. They then take turns choosing tiles and arranging them into melds until a winner emerges.
The Possibilities are Endless
From old favorites such as Yahtzee and Trivial Pursuit to cutthroat poker, gaming possibilities are endless. Besides, most women who get together for regular game nights agree that it's more about good company and conversation than it is dice and cards.