A number of people this Halloween will be dressed as a "Jersey Shore" cast member, a Tea Party presidential candidate or a Black Swan. That means it's a good time to get back to the basics. Vampires, witches, ghosts, zombies, mummies and Frankenstein's monster are the epitome of classic Halloween costumes.
But the fear if you choose these costumes, pun intended, is you'll end up looking boring. The attire all have been done to death. Worse yet, you could feel pretty uncomfortable in that 100 percent polyester store-bought witch frock. So, how do you make these classic costumes pop at a modern party? As long as you have a few iconic trademarks for your costume, you can make the rest of it stand out through a combination of vintage finds and homemade embellishments. With some inspiration, creativity and sticky stuff, you could be the spookiest traditional belle of the ball.
Choose your own twist, your inspiration, and make it your own.

Dionne Barens, key costumer for the NBC show "Grimm"
DIY Tools
The best way to veer away from your run-of-the-mill ghost or witch is to add some crafty touches. Tattering and reconstructing old clothes into costumes is budget friendly and will give the costumes a personal touch.
But some not-so-crafty people might be intimidated by this prospect. Dionne Barens, the key costumer since July 2011 on the upcoming NBC show "Grimm," encourages people to give it a try.
"You can go on YouTube and figure out just about anything," she said. "If you have your neighbor's sewing machine and Google 'How do I thread the bobbin?' there will be a whole tutorial online that makes it so easy."
Some alternative adhesives are a glue gun or Top Stick. Top Stick is double-sided tape that connects to skin and fabric and won't sweat off. Barens said it was originally used for hairpieces, but became infamous when Jennifer Lopez used it to keep up her green outfit with the dramatic plunging neckline at the 2000 Grammys.
Vampire Vein
Unless you've been sleeping in a coffin for a few years, you probably know that vampires have been reincarnated as a pop culture phenomenon. While it might be tempting to slap on some fangs and sparkle makeup for an easy "Twilight" vampire, don't sell yourself short.
"Anybody can be a vampire from any era," said Los Angeles-based costume designer Chloe Ji Yoon.
As there are so many vampires in film, television and novels, there's no need to go with the most popular. Find one you like, gather as much imagery as you can from the character and mimic the style as closely as possible.
Barens said she loves the "True Blood" vampires because each one has a distinctive personality and comes from a different point in history. She is also a fan of a classic Dracula costume, which can get a new twist with a cape from a vintage store. If you're still struggling with the look, buy the packaged cape and embellish it with rhinestones, beading or glitter.
Ultimately, Barens and Yoon recommend you keep the basic fangs, blood and pale skin, then get creative with the rest of the costume.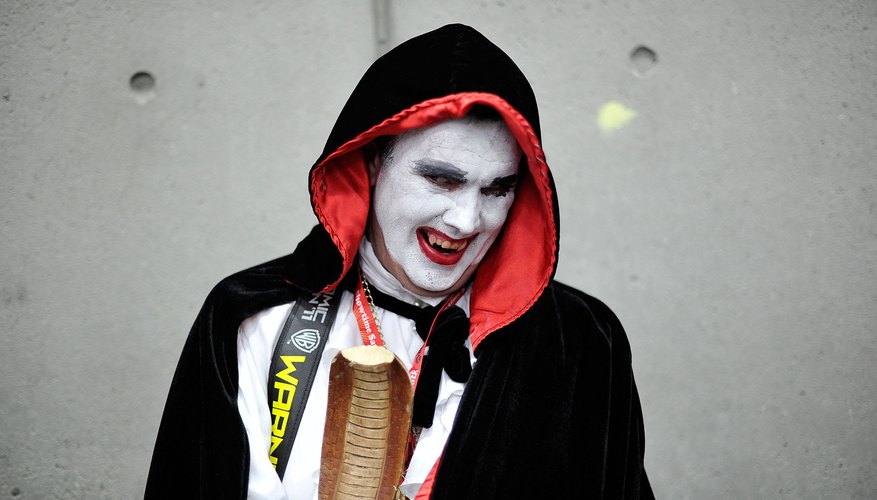 Mummification
The simplicity of the mummy outfit makes it an ideal DIY costume. Yoon has a simple strategy for the ensemble. Buy cheesecloth for the costume and cut it into strips. Sew the strips on unwanted T-shirts and pants, or attach them with fabric glue. If you do sew, Yoon said to stretch the shirts and pants, as sewing on the cheesecloth will cause the material to contract.
Alternatively, Barens recommends buying white gauze and muslin, and aging it through tea-staining. Pour a cup of very strong black tea into your washing machine and put the garments you want stained through a complete cycle.
This is a simple at-home process that she recommends for any costume, including ghost bride and Victorian zombie, that requires an aged old-white garment look. It gives the fabric an authentic aged look at a low cost. Sew the strips of torn gauze and muslin onto a white bodysuit so the costume is fitted.
Your mummy look needs to be wrapped up with a bit of flair. Think about it in terms of who your mummy is. Cleopatra? King Tut? Fake jewels, a golden crown and a snake or the like should make you stand out from the undead crowd.
Witch's Brew
Witches' costumes from the package are often tacky and uninspired, but there are easy ways to glamorize and modify the style. You will, however, need the pointy hat. Even the modern era's freshest take on a witch, Elphaba from "Wicked!," still had the requisite pointy hat.
"It's the most iconic item for the witch -- it can't be beat," said Yoon.
The hat can be embellished as you wish, and the rest can be left to your own interpretation. Dark, flowing Victorian dresses or a billowing blouse and skirt could be perfect for the party. Yoon said the key piece for a witch ensemble is a corset to cinch your waist over your blouse. But you don't have to go so old-fashioned for a witch. One of Yoon's favorites is an '80s glam witch, with bright neon colors and loads of retro accessories. As long as you wear a corset and the pointy hat, in Halloween's book you're a witch.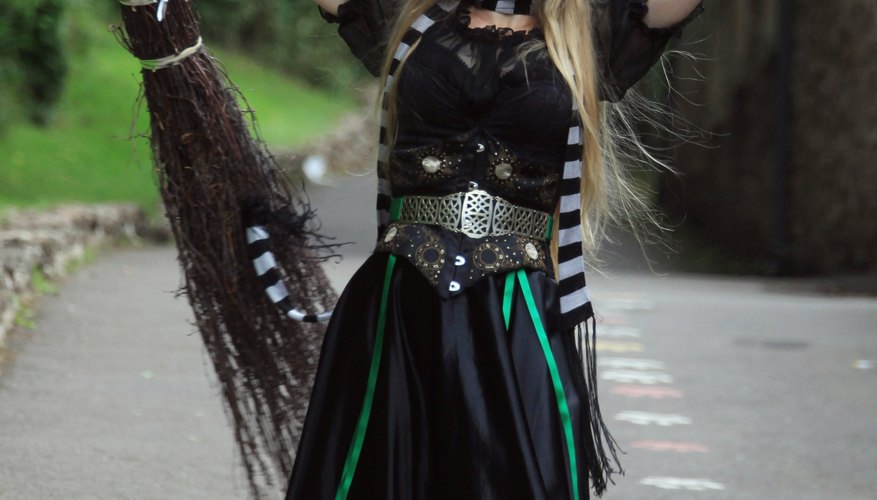 Ghostly Get-Up
Unless your goal is to be booed out of the party, a ghost outfit has to be more than just a white sheet. Barens is not a big fan of the sheet look at all unless it displays some serious modification. Barens said that tearing up the bottom of the sheet or using tea-stain on it can help. Yoon suggested adding eyelashes to the eye-holes.
Barens suggests taking inspiration from the ghosts in Disney's "Haunted Mansion."
"Not the best movie, but costume-wise, it's amazing," she said.
Men should wear a top hat and a suit with the ghost suit, and women should put the sheet over or under a ballgown. The trick with this look is the juxtaposition of fancy black tie ensemble. If you can afford to have these be purely costume garments, tatter the edges of the clothes.
To give the garments the antique look, Barens suggests a product called Rottenstone. It will make the clothes look dusty, but not dirty.
The other key element in this ensemble is ghostly face makeup. Rather than white makeup from a drug store, Barens opts for Ben Nye, a professional makeup brand, which has a cream makeup combo called Death Wheel. These colors are more gray, grimand, well, deathly than just a standard white.
Frankenstein's Monster
Much like witches and vampires, an effective Frankenstein costume requires a few basics. It helps to be large and imposing and to wear some kind of flat headpiece. But you must have bolts jutting out of your temples and greenish skin. The rest can be open to interpretation.
Barens remembered one costume where a boy had a silver zipper around his neck like a collar in place of sttiches. She suggested wearing a brown vintage sport coat -- or dust up a newer jacket that is a few sizes too small for you with rottenstone, and add a black shirt, pants and boots.
Yoon also said the Frankenstein costume is all about stitches, and the worse you are at stitching, the better it will look. Buy an inexpensive long sport coat from a used clothing store, cut the coat up and stitch it back together in big, noticeable stitching in a contrasting color. For that extra creepy shade of green, Ben Nye also has a Monster Wheel that has a Frankenstein-ish green foundation.
Zombie Epidemic
Flatter Your Ghoulish Figure
Were you born in the wrong era? Do you think your style and body type belonged in a different decade? Halloween is the perfect time to explore those silhouettes of yesteryear that make you look sexy and sophisticated. The trick to looking sexy without being trashy is to avoid the packaged costumes. Find an outfit from your closet or a vintage store that fits you, then spook it up from there.
"I pick a look that I fit best in, and add a Halloween twist to it," said Los Angeles-based costume designer Chloe Ji Yoon. In 2010, she dressed as spooky schoolgirl after being inspired by the Harajuku-style Japanese schoolgirl look while working on a TV project.
If you have a slender figure, pick up a 1920s flapper dress. If you have an hourglass shape, start with a '60s era "Mad Men"-style secretary outfit. If you want to wear a classic costume, but not your run-of-the-mill Marilyn Monroe white dress, Dionne Barens of "Grimm" suggests taking inspiration from vintage European movie posters. With the Internet, finding inspiring, distinctive images isn't too tough.
You can always add another dimension to the costume with ghostly makeup. It may help to find a makeup tutorial to match makeup from an era, such as bow lips for the '20s and thick liquid eyeliner for the '60s. And then, of course, add some fangs and blood if you want something extra for the holiday.
Zombies are everywhere these days – in TV, movies and flash mobs – so it's safe to say that hordes of these undead creatures will be staggering through Halloween parties. The fun part about zombies, though, is that you can zombify pretty much any person from any era.
"Choose your own twist, your inspiration, and make it your own," said Barens.
The rest of the costume lies in careful application of zombie makeup. Barens recommends shades of gray and green for foundation, with add some black circles around your eyes. For a 3D scar, use rigid collodion, otherwise known as "scarring liquid." Cap it off with the Ben Nye product Fresh Scab atop of the scar. Next, dab some fake blood around your mouth and on your clothes. If you're fully committed, try out a temporary teeth stain to paint your teeth black and gray.