Thomas Northcut/Photodisc/Getty Images
Display your collections, odds and ends or decorative items in glass jars. Using glass jars for your home decor allows you to easily, and inexpensively, update your decor anytime you choose. Purchase new jars or clean and recycle used jars, whether they once held food or were meant for home decor.
Collections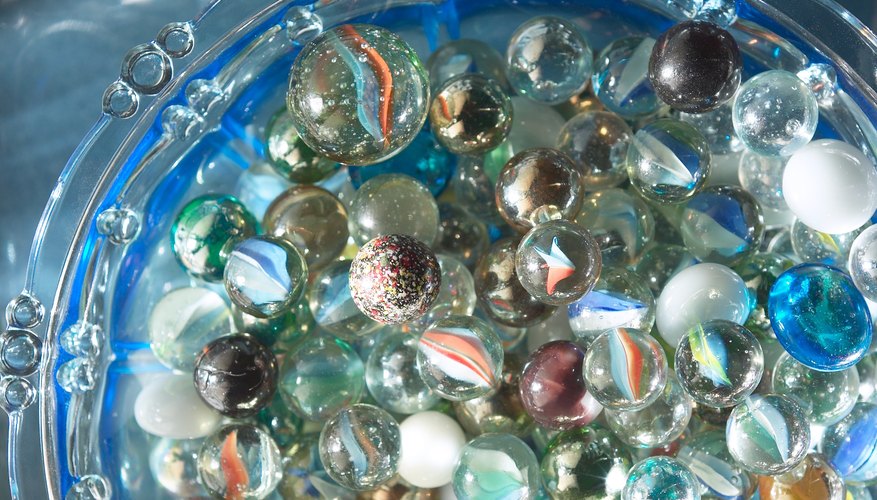 Hemera Technologies/Photos.com/Getty Images
Glass jars are ideal to corral and display your collections. Rubber bands, marbles, golf balls and bouncy balls are items a child might like to display in glass jars. Create a small slit in a jar and let your child decorate the jar to use as a bank. Old keys can add to a rustic look, particularly if you find large, old-fashioned keys. Fill the jar with Legos or other small, colorful toys in a playroom. Display any collection of small items in the jar, such as seashells or river rocks. Use over-sized faux gemstones for a colorful, ritzy look.
Memories
Brand X Pictures/Brand X Pictures/Getty Images
Use small jars to hold keepsakes from family vacations. For example, add sand and seashells to a jar from the beach you spent the summer at or pine cones and twigs you collected outside your winter cabin.
Make a photo collage inside the jar that goes all the way around, then fill it with small miscellaneous items or more pictures you can easily remove to view.
Display your private little mementos or keepsakes in a jar, such as movie ticket stubs, concert tickets, letters or cards that someone special gave you. Keep the private stuff hidden, but display the notes you don't mind sharing with others.
Edible
Jupiterimages/Polka Dot/Getty Images
Keep colorful sweet treats in the jars if you want to add to your decor while providing an easily accessible snack for your guests. Order custom candies or mints in colors that complement your decorating color scheme, such as Jordan almonds or M&Ms. Retro hard candies can serve as a treat and nostalgic reminder of yesteryear for older guests. Use rock candy for a colored crystal look. Swap the candy out every season for a fresh look that goes with the season, such as filling the jars with candy canes during the winter. Faux fruit slices that aren't actually edible are another option that can add color and interest to your kitchen.
Practical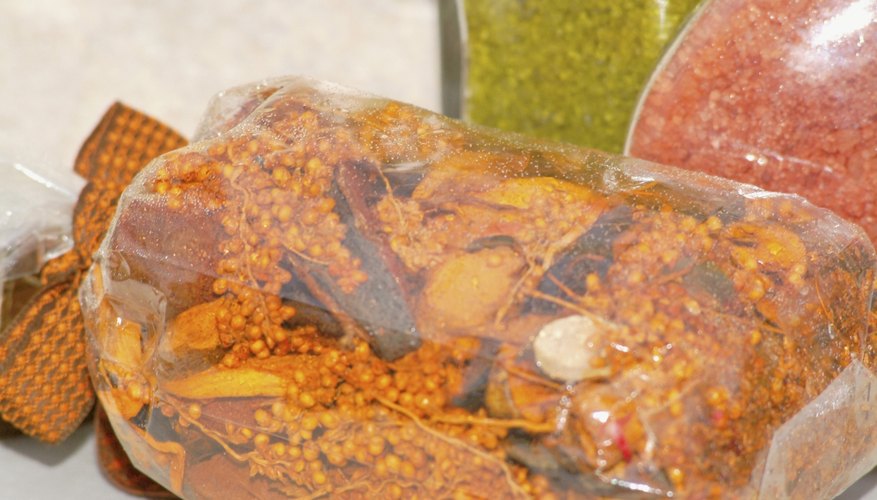 Medioimages/Photodisc/Valueline/Getty Images
Use the jars to display items that are practical and decorative, such as potpourri. Introduce a new scent each season. Colorful, scented candles are another option. Using a jar to hold your candles can also lend to old-fashioned decor, like a lantern.
Place jars on your bathroom counter to decoratively display carved soaps, cotton balls, lip gloss or other items you frequently use. Tie a colorful ribbon around the jar to match your bathroom decor.
References
Resources
Writer Bio
Janece Bass is a freelance writer specializing in weddings, family, health, parenting, relationships, dating, decorating, travel, music and sports. She has been writing for more than 15 years and has numerous published pieces on various websites and blogs. Bass has also ghostwritten various fiction-based novels.
Related Articles