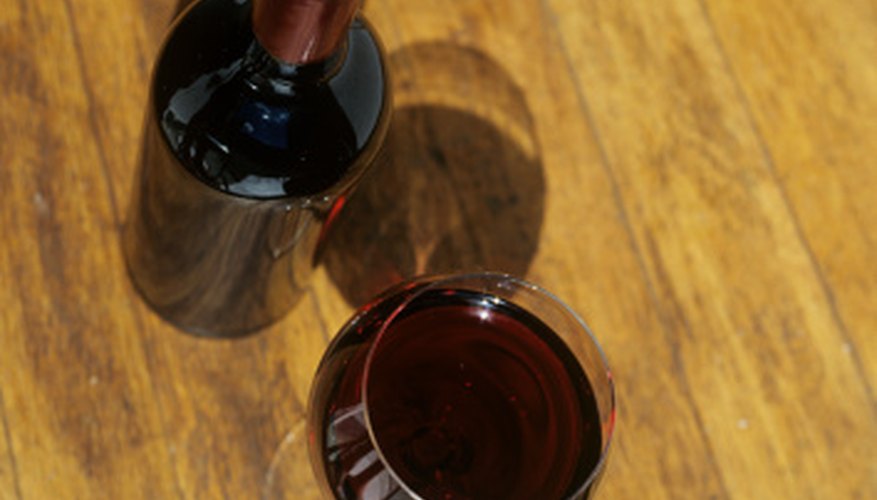 It's tasty to drink and lovely to look at, but what to do with the bottle when empty becomes the question. Wine bottles come in a variety of colors and shapes, making them an ideal decorative item for your home once empty. Look for methods to incorporate the bottles for both and aesthetic and functional use within your home.
Light
Repurpose an old wine bottle into a lamp. Pick a wine bottle with an unusual shape or color for your design. Drill a hole into the side of the bottle by the bottom and thread the wire through. Attach a lamp fixture to the top of the bottle before inserting the light. Pick a shade that matches the color of the bottle, or apply a wallpaper that contains a wine motif to the shade.
Centerpiece
Define the theme of your table with a wine centerpiece. Group the bottles of wine on a silver tray in the center of the table with a collection of multi-colored glasses. Add a selection of cheese, such as Swiss, cheddar or brie with crackers or bread, such as a crisp crusty French roll. Number the tables at your soiree by replacing the existing label with the table number or sticking a card with the table number on it into the mouth of an empty wine bottle.
Table
Design a table with wine bottles. As this project requires perfect balance, pick four wine bottles of the same height, and purchase two round, wooden disks of the same size. Paint the top and sides of one disk. For the second wooden disc, you can either paint it the same color, paint a Tuscan scene on the wood, or cover it with wallpaper that reflects a wine theme. Drill a hole the size of the bottle mouth in the bottom of the top disk. Apply epoxy to the bottles and the bottom disk of wood. Finally, insert the bottles into the holes you have drilled on the underside of the table top.
Other Projects
Place a candle into the mouth of an empty wine bottle to use it as a candle holder. Allow the candle wax of different colored candles to build up on the bottle for an interesting display. This looks best on small, wide bottles.
You can also group several empty colored-glass wine bottles together along your kitchen window to block eyes peeking and add rays of color to the room as the sun reflects off the bottles. You can also stack a group of wine bottles on a shelf as a collection.