Jupiterimages/liquidlibrary/Getty Images
Crafting can be a good way to put some extra money into your pocket. Turn a profit doing what you enjoy by creating some cute crafts to sell. Search for inexpensive materials in hobby shops, craft stores and yard sales. Look around in your attic, garage or even trash for unwanted items that you can make over into cute crafts to sell.
Brilliant Bottles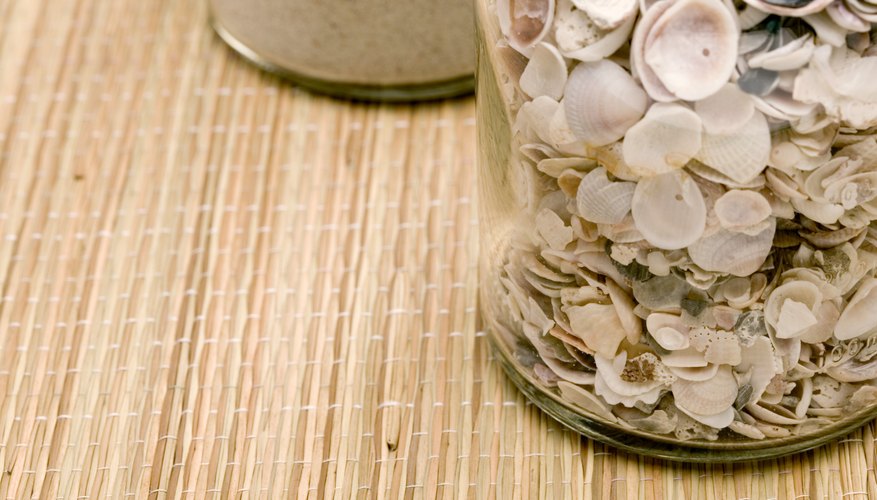 Jupiterimages/liquidlibrary/Getty Images
Transform plain, clear bottles into little paperweights or room accents to sell. First, wash and let the bottles air dry, then fill them attractive objects and finally seal closed by inserting a cork or screwing the cap back on or pouring in some glue. Cute idea for filling bottles include glass or plastic beads, colored pebbles, colored or plain sand, seashells, wood chips, coils of yarn or pine needles. Fill two bottles to make a matching set of bookends.
Tip Top
The caps of the bottles can also be reused. Turn them into refrigerator magnets, great for selling around holidays. For example, for Valentine's Day, spray paint some bottle caps red, some white and some pink. Glue a small magnet to the inside of each cap. Onto the front of each cap, paint hearts or roses or a message such as "I love you." or "Be mine." Finish by spraying on a coat of clear varnish. Make holiday-themed magnets for Fourth of July, Thanksgiving, Halloween and Christmas.
Grand Glass
Give empty salsa, honey, spice, jam, pickle and sauce jars a completely new look and repurpose them as cute potpourri jars. Peel off the label and wash the jar. Use an awl or a nail and a hammer to punch holes into the jar lid so the scent can escape. Then decorate the jar. Put shapes, designs, pictures and words on it using paint, permanent marker or glue and string. When selling the jars, throw in a free bag of pretty potpourri.
Clever Cushion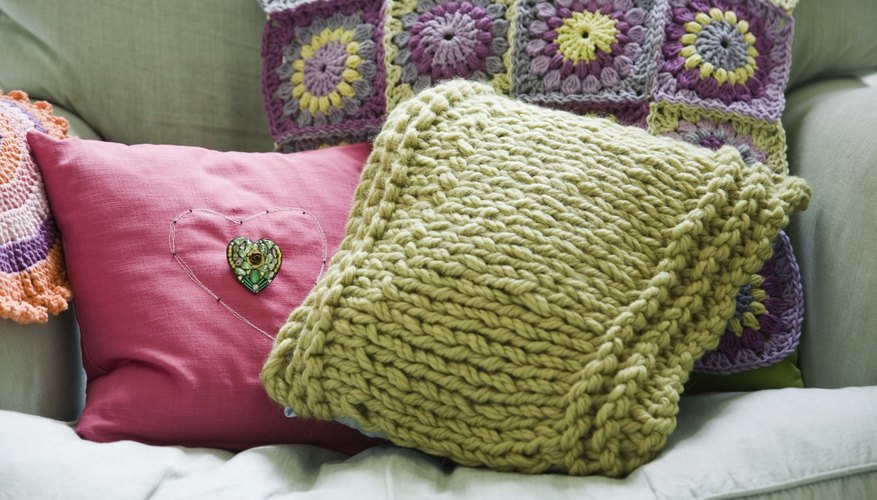 Jupiterimages/Polka Dot/Getty Images
Making cute little accent pillows is very easy, and you can customize them to appeal to a wide range of customers. Start by cutting two squares of fabric to just larger than the size the pillow will be. A half inch in from the edges, sew the squares together on three sides. Stuff the little pillow with cotton balls and sew the last side closed. Make all kinds of pillows using different colors, textures and patterned fabric, and add a touch of fun with accents such as cord, ribbon, shoelaces or tassels.
References
Writer Bio
Donni Jones has been an editor and writer since 1996. She has edited articles for and contributed content to numerous publications, magazines and online businesses such as FootSmart.com and KateAspen.com. She holds a Bachelor of Arts in English from the University of West Florida.
Related Articles