Getting ready for school image by Nikolay Okhitin from
Fotolia.com
Bible crafts help children learn and remember Bible stories and verses that demonstrate how God loves and cares for his people in all of life's situations. Matthew 6:25-34 and 10:29-31 tell how God cares for the beautiful flowers, every little bird and every hair on our heads. Psalm 23 tells us that God is our shepherd and takes care of us.
God's Splendor T-Shirt
In Matthew 6:28-31, Jesus tells us not to worry about what we will wear. "See how the lilies of the field grow...Not even Solomon in all his splendor was dressed like one of these." Provide a T-shirt for each child to decorate. Place a piece of plain paper inside each shirt. Have the children use glittery or metallic colors of fabric or acrylic paints to decorate their shirts. They may choose to draw flowers, write Bible verses or create a design. Let the paint dry before children wear the shirts.
"God Takes Care of the Birds" Mobile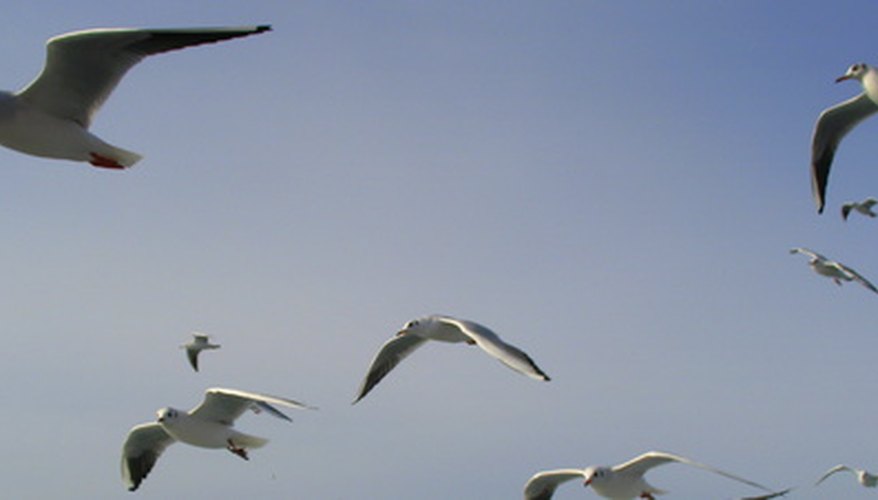 Jesus tells us in Matthew 6:26, "Look at the birds of the air...your heavenly Father feeds them." The kids can crinkle plain paper into an oblong shape and cover the entire shape with masking tape to create a bird shape, then paint or decorate the birds as they wish. Children may also choose to cut out paper bird shapes with wings to fold outward or decorate plastic bottles or containers to look like birds. Give each child a plastic clothes hanger and yarn lengths to hang his birds up for a mobile. Each mobile can have a variety of types of bird creations if the children choose.
God Counts the Hairs on My Head
Jesus gives out hope in Matthew 10:30-31a, "Even the hairs on your head are numbered...so don't be afraid." Give each child a plastic container with a wide opening and a reproduced outline of each child. The children can decorate the containers with craft materials and color the picture of the child to look like themselves. Glue the child figure onto the container with the top of the head at the top edge of the container. Fill each container with soil, then press several grass seeds into the soil. When grass begins to grow, have the kids try to count the "hairs" on their crafts' heads.
"The Lord is My Shepherd" Verse Plaque
Remind children that "The Lord is my shepherd, I shall not want." Reproduce a copy of the 23rd psalm onto 8-by-10-inch paper for each child. Position the verse on the paper so there is a border of about 2 inches around the entire verse. Glue the verse page onto an 8-by-10-inch piece of cardboard. Glue gold cording around the edge of the picture, then again around the verse. In the empty space between the two cording edges, have the kids press ink thumbprints in several places. The kids can use fine-lined markers to add a face, ears, legs and a tail to each of the thumbprints to make sheep. Tape or glue a length of cording to the top of the picture for a hanger.
References
Resources
"Teaching Children Memory Verses"; Mary J. Davis; 2005
"Teaching Children to Pray"; Mary J. Davis; 2006
"Five Minute Sunday School Activities"; Mary J. Davis; 2005
Writer Bio
Since 1992, Mary Davis has sold numerous articles and stories, greeting cards, calendars and novelty items. She also has sold Christian education reproducible books and Christian children's journals. She writes Sunday school curricula and teacher ideas and tips for both Christian and secular markets. Her topics include everything from children's stories to OSHA/safety topics.
Related Articles